The Best Motor oil guide – types and specificatons
Published : 11 / 20 / 2018
Share
First of all we will say a few words about motor oil, and how important is to choose The right one
If You are looking for

The Best Motor

oil for Your precious vehicle, this guide will teach You everything You need to know about it. Besides, You will be able to understand all signs on oil bottle and choose The Best one by Yourself!
Car Engine/Motor is made of metal parts mostly, that are constantly making frictions, and without oil to lubricate it, it would all just brake in pieces. Besides that, high quality motor oil is cleaning Your engine/motor as you drive what will ensure its longer life. Also every engine/motor is made of different kinds of metal, has different performance, age, etc. which leads to different types and specifications of motor oil that has to be used.
Read following text and you will become Motor Oil Expert in no time!
Motor oil types are:
mineral (conventional)

semi-synthetic (synthetic blend)

synthetic
Before we go further, here is a great step by step article about How to change Motor oil by Yourself!
Mineral Motor oil are mostly used in older cars. They are made from naturally occurring crude oil which is refined and processed. It fall into group of thicker viscosity grade motor oils.
Semi-synthetic Motor oil are a blend of mineral and synthetic motor oils. They provide better protection, performance and fuel economy than mineral, but still not as good as Semi-synthetic oils. They are good for cars with more modern contraction.
Synthetic Motor oil is for high-performance sports cars with turbochargers and all other fun parts. Synthetic oils cost more, but they are best quality and with highest SAE range, so If You really want to keep your car in good shape spend few $ more. Oil manufacturers don't recommend mixing mineral and synthetic oils. In addition to these 3 types, there is also Motor oil for high-mileage driven engines that contains different additives.
Read the labels on the bottle prior to purchase, look for the API or ACEA category, viscosity grade and other specifications.
SAE motor oil viscosity grade
SAE (Association of Automotive Engineers) has established a system for different engine oil types. The SAE classification includes numbers: 0, 5, 10, 15, 20, 25, 30, 40, 50 and 60. After the numbers 0, 5, 10, 15, 20, or 25, there is letter W for winter temperatures.
Today, most oils are multi-grade, meaning it can be used despite temperature changes over the year.
Mono-grade engine oil is suitable for specific temperature or time of year. SAE labels for multi-grade engine oil has two viscosity markings for example: 5W-30, 5W-40 or 10W-40.
The SAE classification shows the viscosity of the oil, not quality of motor oil itself.
When it comes to such an important fluid, you shouldn't economize on its quality. The difference in price and quality of engine oil types is mostly because of specifications and additives. The specifications are important and they will determine performance of oil. There are two labels that you should find on oil packs:
API (American Petroleum Institute)
ACEA (Association des Constructeurs Europeens d'Automobiles)
Good oils often contain both labels, and it's important to understand their meaning.
API motor oil types and specifications
S = for petrol engines (passenger car)
C = for diesel engines (diesel-power engine)
Engine oils contain specifications for both, petrol and diesel engines and according to API, good quality oils have each category printed on packs. For example SL/CF – the first SL mark is for petrol engines and the second CF for diesel engines.
Today, outdated specifications are all before SL. However, they do meet requirements for certain older vehicles, but don't provide the same level of performance and protection as SL or SM specifications.
On the motor oil specification chart you can also see ILSAC specifications and General Motors specifications intended for North American and Asian markets.
High diesel-powered engines have similar chart list. Newer engines don't use oils older than CH-4.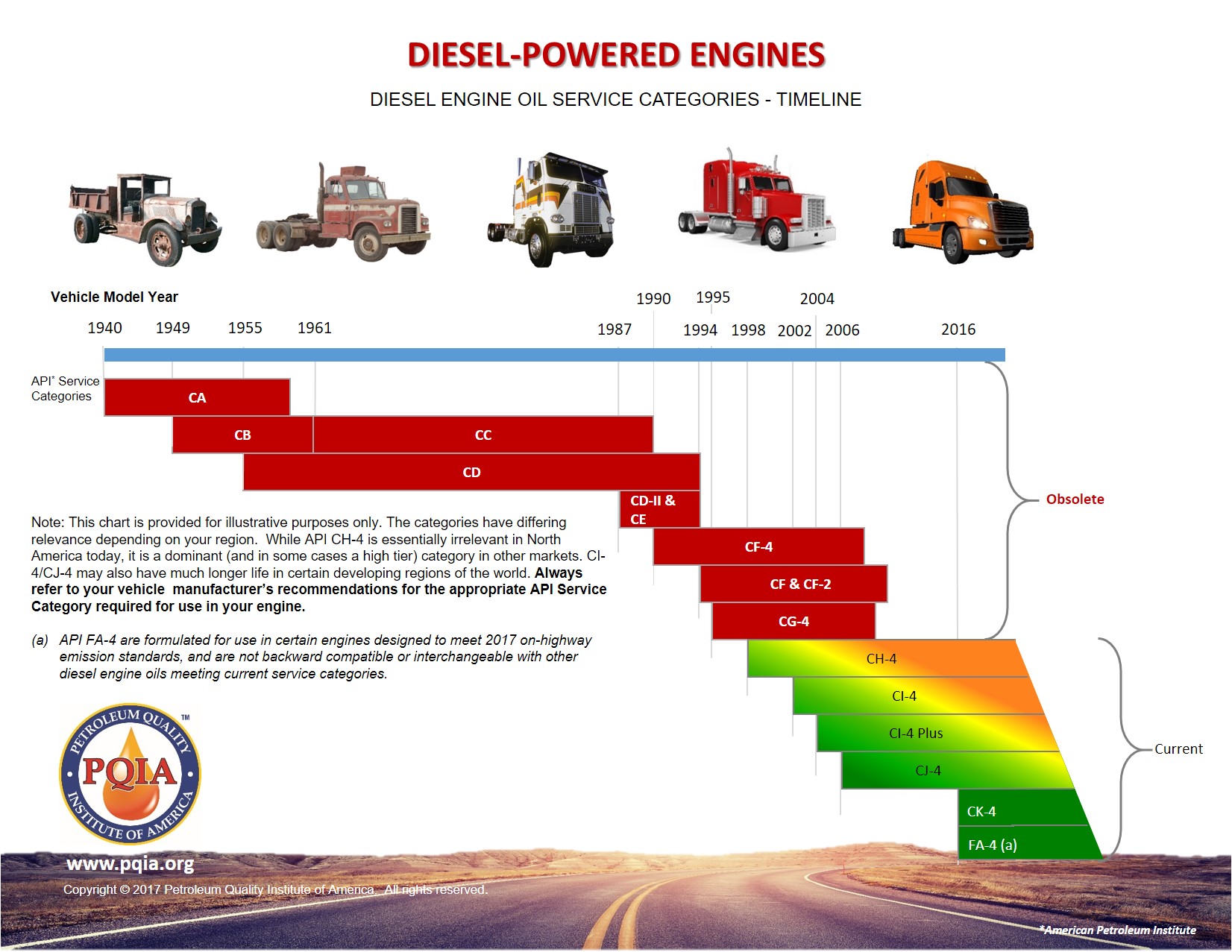 You can read more about it on APIs website.
ACEA engine oil types and specifications
A = for petrol engine
B = for diesel engine
C = for vehicles with engines that has a catalytic converter, or with low SAPS emission (sulfate, ash, phosphorus and sulfur)
ACEA is the European equivalent of an American API organization. It is more detailed analysis of performance for each motor oil type.
The ACEA table doesn't show same timeline of tests and improvements such as APIs. It shows efficiency and classification for certain types of engines.
In 2016 table was still in use and you can see orange arrows indicating oil economy, engine protection, oil consumption and emissions (SAPS).
You can read more about ACEA specifications and newest updates on their website.
OEM specifications (original equipment manufacturer)
Not all European manufacturers of engines accept ACEA specifications. A large number of them, who are even members of ACEA, now have their own motor oil specifications.
The requirements of the ACEA specification represent only the minimum requirements.
Engines/motors technology are improving every day and they have additional requirements for oil quality. This forced many engine oil manufacturers to produce a wider range of types, which is more expensive to develop and produce. It also complicates buying and applying for costumers.
Mercedes Benz, Volkswagen, MAN and Volvo are among the companies that have the biggest impact on lubricants manufacturers. They have wide range of oil specifications, guaranteed attestations, issue approvals and they publish a list of certified lubricants.
If you are looking for high quality performance oil, there are some of the older OEM specifications that You should avoid:
VolksWagen – 500.00, 501.00 and 505.00
Later specifications such as 503, 504, 506 and 507 have a newer date and have better performance.
Mercedes Benz – 229.1
Also, 229.3 and 229.5 are newer.
BMW – LL98
LL01 and LL04 have better specifications.
If You got to the End, You are truly car enthusiast!
And now You are knowledgeable one too!
We hope that it was helpful. Please leave Us a comment and let Us know what do you think about it. Cheers!